---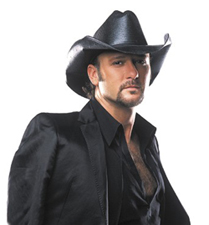 Tim McGraw Looks Out For Number One
by Elianne Halbersberg
To say that this has been an outstanding year for Tim McGraw would be a tremendous understatement. He again volleyed to the top of the charts with his latest project, Live Like You Were Dying, which debuted at No. 1 on both the Billboard Country Albums chart and Top 200 Albums chart. On its heels, he hit the No. 1 spot on the Country Catalogue Album chart for his Greatest Hits album and the Country Singles chart for the new disc's title track. Live Like You Were Dying is McGraw's seventh No. 1 country album. His critically acclaimed summer tour, Out Loud, played to 500,000 people during its 33-city run. The tour extends through mid-October with a name change to Tim McGraw & The Dancehall Doctors Fall Tour 2004 as the concerts move to indoor arenas.
When it came time to cut his new record, McGraw knew just what he wanted. He was coming off the extraordinarily successful Tim McGraw and the Dancehall Doctors, which he and his longtime touring band had recorded in upstate New York at Allaire Studios. The natural and creative atmosphere, the isolation that allowed them to concentrate fully on the music, and the attendant camaraderie all beckoned him to return. It was a decision that began paying off the moment they drove up.
"It was like going away to summer camp," he says. "You've got all these guys that are your best friends who you've traveled around with forever, and you go to the top of this great mountain, with snow outside and fireplaces inside. We were actually giddy about getting there."
Capping it all is the fact that collectively they produced an album that has already given his incredible career another stellar moment. The CD's first single and title track, "Live Like You Were Dying," became one of his fastest-to-the-top singles ever.
"It's just a great song," he says. "Probably anybody could have recorded it and had a big hit, but it helps that we're in a great place in our careerthings just seem to keep getting better. Five years ago I figured we were at the top of our game and that was the best it was going to get, but with every album it seems to keep on building on itself." The song also hits a very personal chord for McGraw: His father, professional baseball player Frank "Tug" McGraw, passed away in January 2004 from brain cancer at age 59. When McGraw performs the song in concert, he ends by tapping his chest the way his father used to do on the pitcher's mound, then points upward toward heaven.
It's been a remarkable ride for McGraw since releasing his self-titled debut album in April 1993. His achievements include nine albums spawning 23 No. 1 singles and selling 30 million copies, tours that consistently rank near the top in financial and entertainment terms, and scores of awardsamong those a 2001 CMA Entertainer of the Year nod, a Grammy, and the 2004 People's Choice Award for Favorite Male Musical Performer. He is one of only three men ever to grace the cover of Redbook. His NBC live concert special in 2002 ranked higher than specials by U2 and Paul McCartney. He was the headline act at the 2003 Nobel Peace Prize Concert, and on October 15, 2004, he makes his major motion picture debut with a role in the Universal/Imagine film Friday Night Lights with Billy Bob Thornton.
Many artists have achieved great longevity or amazing levels of success, but McGraw's career has indeed been remarkable for the way in which both have been intertwined for so long. That makes his decision to reinvent a major portion of that career, combining road and studio into a seamless whole, that much more impressive. For McGraw, though, the logic lies in the resultsand in an unusual modus operandi for Nashville: bringing the touring band into the studio.
"Using the band on the records brings a new kind of honesty to the sound..."
"Using the band on the records brings a new kind of honesty to the sound and makes what we do onstage that much purer to the vision we had originally," he says. "It is also a huge comfort being in the studio with those guys and singing to their tracks. We brought a confidence level into recording this time. We knew we could make a great record because we had the confidence of the last album. We were then able to go further, take it to another level.
"This record has a really personal feel to it. It's almost a tapestry of life, not just for us but in general, and I think a lot of people will be able to relate to it, and will be able to jump into this record and flow downstream with it."
McGraw grew up in Start, Louisiana, where sports and music (first record purchase: Alabama's "Why Lady Why," first concert: Ted Nugent) competed for his attention. Growing up in the country, he was surrounded by motorcycles, horses, and found himself "constantly in trouble," pulling stunts like "camping out on the bayou across the island, with extension cords so we could cook steaks and watch television & and a few other things I probably couldn't talk about." The odds of not only getting out of the small town but making it to the number one recording artist in the country were slim to none. "I never thought it would happen, nor could I take it seriously because of that," he says. "But I had a vision, a passion, and I didn't change my mind."
By the time he was in college, he had chosen music. He played solo in regional nightspots, then headed to Nashville, where he joined the throng of young hopefuls vying for attention. His onstage charisma helped land him a record deal. He and his bandmany of whom are still with himtook to the road to hone the sound that continues to make his concerts among the industry's most exciting. With "Indian Outlaw" the hits started coming, spawning multi-Platinum albums and sellout concerts.
"Our show is pretty high energy," he says, "and they're one of the best bands in the country. The main thing I need is people who believe in the music. It's easy to get caught up and not see all the work involved in what we do. It's a rude awakening once you're in this business, but I would rather do this than anything else I can think of. Country music is so popular, and that is due to a combination of many things. My generation of artists were exposed to a lot more music growing up. In the 1960s there weren't a lot of radio stations in the rural South, where I came from. Now you can turn the dial one inch and pick up three or four. Country is social music that reflects what goes on in our lives, in its listeners' lives, just like rap reflects a social sector. Perhaps we will [eventually] see radio move toward playing back-to-back records in all genres, as they did when we were younger.
"The main thing I want people to know is that my music is honest, and that's the way I try to be. [Having hit records] takes all your time away. A lot of things have changed. Im not begging for gigs or worrying about the electricity being cut off when I'm home. I have more freedom with what I do; my main concern is making the show better, and this allows a lot of opportunities to do that."
The one thing he hopes to never change is himself. "Every day you have to think about where you come from, where you're going, and not let things get to you. I keep my head straight by reminding myself of that. The best piece of advice I ever received was from my mom. When I moved to Nashville, she told me to be true to myself and always make decisions I feel are the right ones. So far, it's worked out pretty good."
---